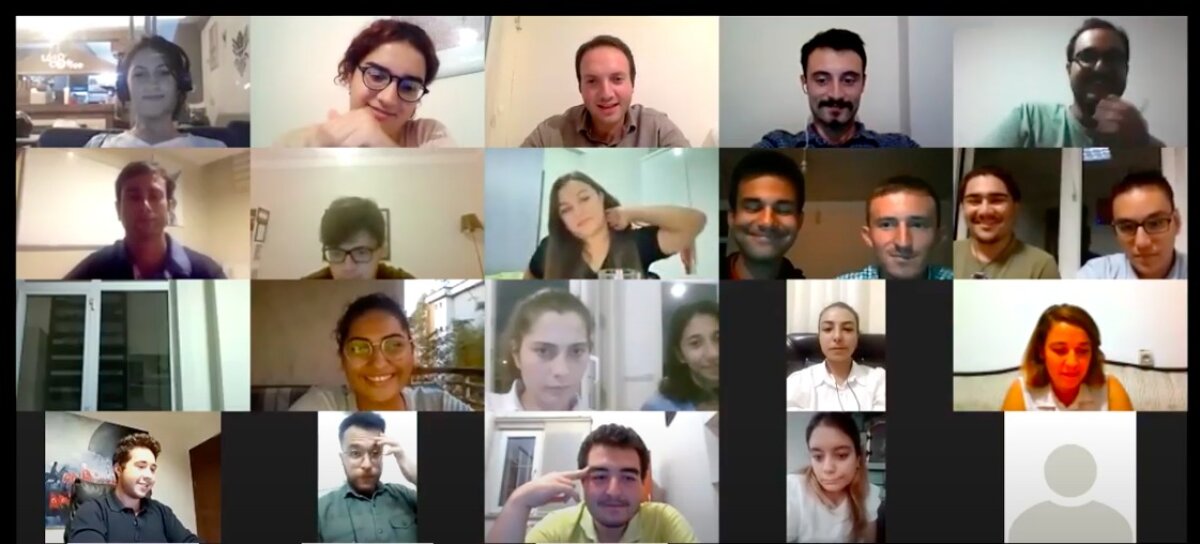 TGB International Relations Bureau (TGB INTL) held its first meeting of the new term on Tuesday, September 21st, 2021, under the chairmanship of Işıkgün Akfırat, head of the bureau with its new members. At the meeting, which was held online, the working system was renewed for the next term, success targets and work plans were determined.

The bureau, which manages the international relations of TGB, determined its vision for the new period. It stands in front of the TGB International Relations Bureau to strengthen relations with the youth of regions resisting imperialism, to tell the world youth about Turkey's rightful struggles, and to expand the World Anti-Imperialist Youth Union (WAYU) with new participations.

The members of the International Bureau will also work to provide more accurate information and in-depth analyzes to the Turkish public regarding developments in the world. It is aimed that the members of the bureau will specialize in the countries they are interested in and important international issues, with the division of labor to be held by the regional desks, seminars to be held with experts and working groups to be formed.

The closest major event in front of the TGB INTL will be the physical event of "the Second International Youth Conference for an Independent Palestine", which took place first online on July 25, 2021, in December, in Turkey and made a great impression. It is planned that more youth organizations from Palestine, West Asia, and all over the world will participate. Apart from this, TGB INTL is rolling up its sleeves for the WAYU Congress, where the full membership of many new international youth organizations will be approved.

In the meeting, some changes were made in the regional desks within the scope of these plans and there were 14 new participants in total. TGB İzmir Provincial Secretary Göksu Nacar has been appointed to the West Asia Desk as head of the desk, Ankara Provincial Executive Emre Kaya has been appointed to the East and South Asia Desk as the head of the desk, Muğla Provincial Executive Başak Demirkol has been appointed to Europe Desk as the head of the desk, Ankara Provincial Executive Taha Küçükuygun has been appointed to the Africa Desk, which is the newly-constituted, as head of the desk. With the new assignments, the directors and members of the TGB International Relations Bureau, which works with a total of 6 geography desks, are as follows:
Head of International Bureau: Işıkgün Akfırat
Secretary of International Bureau: Fatma Gözdenur Mercan
Deputy Head of International Bureau: Yunus Emre Özgün

1) West Asia Desk: Göksu Nacar (Head of the Desk), Büşra Ezgi Duman, Barış Akkaya, Ezgi Turan Kardelen, Halil Yiğit Gök, Sarp Kazezoğlu, Ali Parlak
2) East and South Asia Desk: Emre Kaya (Head of the Desk), Cem Dağlıoğlu, Cemre Nilsu Çatakoğlu, Berfin Şenel, Kayahan Çetin
3) Caucasus and Central Asia Desk: Şevval Bulduk (Head of the Desk), Verda Kasapoğlu, Betül Kaya, Zeynep Fulya Beder, Mustafa Bagli, Yakup Büray Yılmaz
4) Africa Desk: Taha Küçükuygun (Head of the Desk), Münire Tomana, Eren Yiğitoğlu, Mihriban Bicil
5) North And Latin America Desk: Anıl Işık (Head of the Desk), Metehan Şahin Karataş, Devrim Eskibina, Yasin Kılıç, Serhat Özbaş
6) Europe Desk: Başak Demirkol (Head of the Desk), Yağmur Biçen, Yağızhan Onat