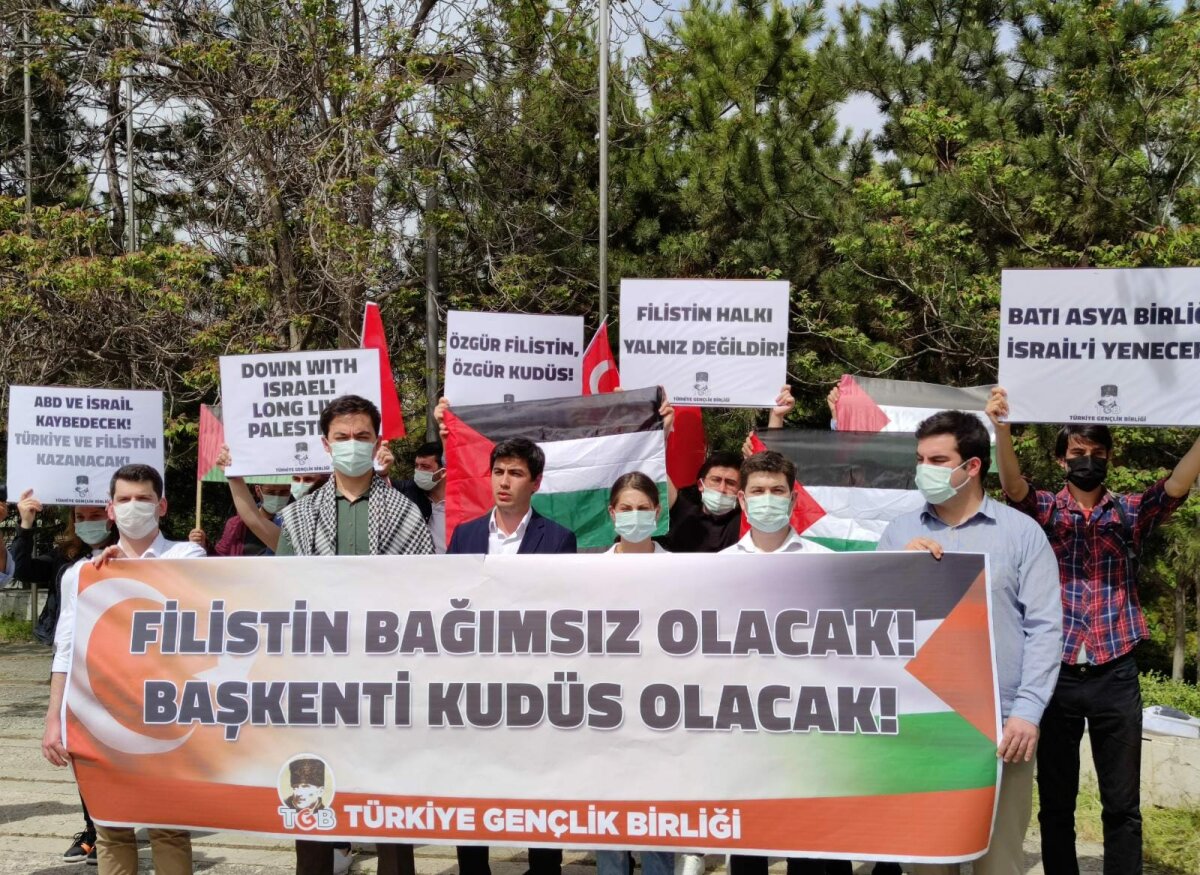 Our great nation,
And all the oppressed world that hears our voice,
We are calling out to you in front of a nest of murderers.
This is not a diplomatic building. The people in it are not diplomats either.
These are the representatives, agents, and criminals of a bloody terrorist state.
These are the ones who entered the Masjid al-Aqsa, our sacred one, with those bloody boots and attacked our Palestinian brothers who pray there last night, in this holy month of Ramadan.
These are those who have attacked the homes of Palestinians in the quarter of Sheikh Cerrah and displaced them from their homes.
These are the ones who trampled humanity with their occupation, cruelty, and torture in Palestine for years and cauterize our hearts.
That's enough! Our anger is great. We have the pain of tens of thousands of Palestinians and Muslims who were martyred by the bullets of Zionist scoundrels. We have the pain of our brothers who were injured in that treacherous attack yesterday.
The damage to a single hair of them is felt in the hearts and blood of all of us. Because the heart of Turkish youth is knotted with the sacred resistance of the Palestinian people. The Free Palestinian cause is the cause of the Turkish nation and all oppressed nations.
What was done last night is a sign of a much bigger attack they will do on Ramadan 28 which is also the 10th of May. So much so that they post the news of their attack on the doors of the Masjid al-Aqsa, look at the arrogance! They announce the invasion with drums, as if they were going to conquest, look at the meanness!
We damn, condemn, and call to "stop the occupation!" So do they put an end to this? Can we stop the invasion, cruelty, torture with tears? No. They take courage from our inaction. So how much more will we respond to this inhumanity, this wild-eyed cruelty, with statements only?
As the Turkish nation, we know how to end this imperialist tyranny, this occupation, and this terror.
We know it from Karabakh. Turkey united with the countries of the region, stood behind Azerbaijan not with words, but with arms. What happened to those Pashinyans? They accepted the defeat, the 33-year occupation ended.
We know it from Cyprus. They had put a blockade on our Marash. What happened to those pro- ENOSIS America-Israel's puppets? They could not even speak out, the 45 years of imposition ended.
We know how to end it from Syria. Turkey has made an agreement with Russia, Iran, Iraq, and indirectly with Syria. What happened to those Mazlum Kobanis, who are cherished by the USA? Our hero soldiers entered there and destroyed the terror corridors on their heads.
Occupation, cruelty, and tears end neither by lamenting nor by weeping.
The occupation, cruelty, and tears only cease when we turn our barrels into oppressors.
This attack is not an Israeli action alone. This attack is the blockade operation of the imperialist-Zionist alliance led by the USA against our region.
That is why this attack was made against not only Palestinians but also all regional states, all oppressed nations. This attack is against Turkey, Syria, Iran, Iraq, Lebanon, and Egypt.
This occupation will end if the countries of the region are united, the states of the region show their weapons and say "stop, otherwise we will shoot" as it ended in Karabakh, in the north of Syria, just like in Cyprus, Marash.
For years, the Palestinian people have resisted this occupation army with their teeth and nails, stone and slingshot. If it is needed an uprising, they did. If it is required an intifada, they did. All hail to the heroic, devoted, brave Palestinian people!
Now it is our turn to act. From here, we call out to our government: Let us be the pioneer as Turkey. Let us leave aside the chosen diplomatic words. Let us define a holistic action plan that will give full and continuous support to Palestine. Let us make Iran, the Syrian Arab Republic, and Russia our comrades in arms. Because we are not only facing Israel. We are also facing a front formed by Israel-USA-Greece and Southern Cyprus.
We promise our Palestinian brothers and sisters ahead of this house of murderers, the Israeli Embassy in Ankara: This blockade, this occupation, this persecution will end!
With the armed unity and determination of West Asia, we will defeat this terror state, this Crusader Alliance.
Palestine will be independent!
Its capital will be Al-Quds!
Palestinian guards not only protect their homeland, but also Turkey. Our Mehmetçik defends not only Turkey but also Palestine. We are blood brothers. We are comrades in arms. We stand by the Palestinian people until the end of their struggle for independence.
Down with the US, down with Israel!
Long live the unity of the oppressed nations!
Long live Palestine!