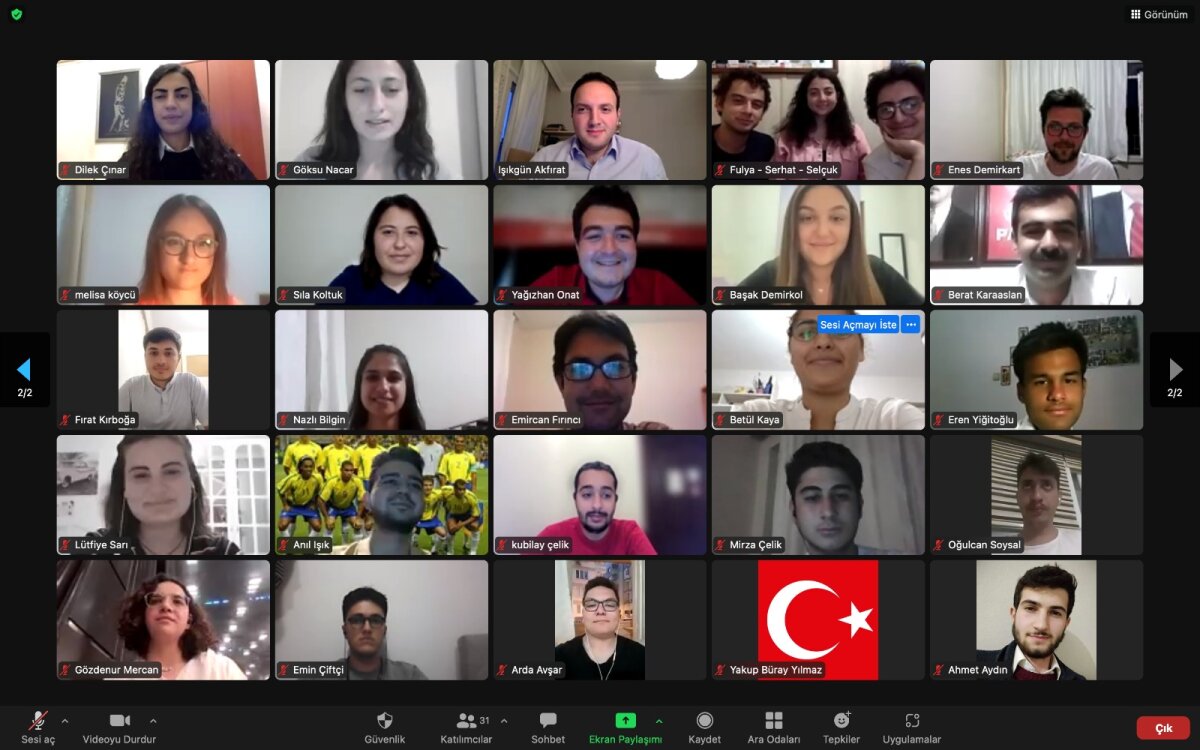 'TGB UNITES YOUTH AROUND THE WORLD'
TGB President Dilek Çınar made the opening speech of the meeting. President Çınar said that TGB undertakes pioneering duties not only in Türkiye but also in the region and around the world. Reminding that the duties of the UIB in international activities, and stating that TGB united the youth around the World in the anti-imperialist struggle, Çınar said that the problems and struggles of the world's youth are common.
'THE UIB'S MISSIONS ARE CRUCIAL'
Stating that TGB has established close relations and cooperation with revolutionary patriotic youth organizations from Islamic geography to Eurasia and Latin America, President Çınar emphasized that UIB is Türkiye's eye-opening to the world for the expansion of this solidarity. Çınar also congratulated the newly appointed bureau members and wished them success.
'WE TELL THE WORLD ABOUT PALESTINE AND NORTH CYPRUS CAUSE'
Işıkgün Akfırat, Vice President of TGB and Head of International Relations Bureau, stated that the TGB is doing works that pave the way for the Republic of Türkiye both inside and outside the country. He pointed out that the UIB carries Türkiye's rights and interests to foreign youth organizations by producing the right policies. Stating that the UIB is in contact with more than 40 youth organizations from 5 continents and more than 25 countries, Akfırat emphasized that by bringing these relations to the level of states, imperialist lies and blockades will be eliminated.
'REVOLUTIONARY DIPLOMACY ON THE FRONTLINE OF HUMANITY'
UIB Secretary Yunus Emre Özgün also stated that international relations and diplomacy are not concepts that stuck in books and terminologies but revolutionary and organic practical activities. Stating that Turkish youth are fighting on the forefront line of humanity against imperialism and Zionism, Özgün noted that TGB's International Relations Bureau is a school that trains staff to run the Republic of Türkiye.
Administrative Board Members
| | | |
| --- | --- | --- |
| Işıkgün Akfırat | Head of the Bureau | iakfiratt@gmail.com |
| Yunus Emre Özgün | Secretary of the Bureau | yunusemreozgun35@gmail.com |
| Emre Kaya | Head of East and South Asia Desk | emrekaya550698@gmail.com |
| Anıl Işık | Head of Latin America Desk | anilisiktlb@gmail.com |
| Başak Demirkol | Head of Europe and Balkans Desk | basak-demirkol@hotmail.com |
| Betül Kaya | Head of Caucasus and Central Asia Desk | kayabetul911@gmail.com |
| Göksu Nacar | Head of West Asia Desk | goksunacar@gmail.com |
| Mete Karataş | Head of North America Desk | karatas1376@gmail.com |
| Taha Küçükuygun | Head of Africa Desk | tahakucukuygun@gmail.com |