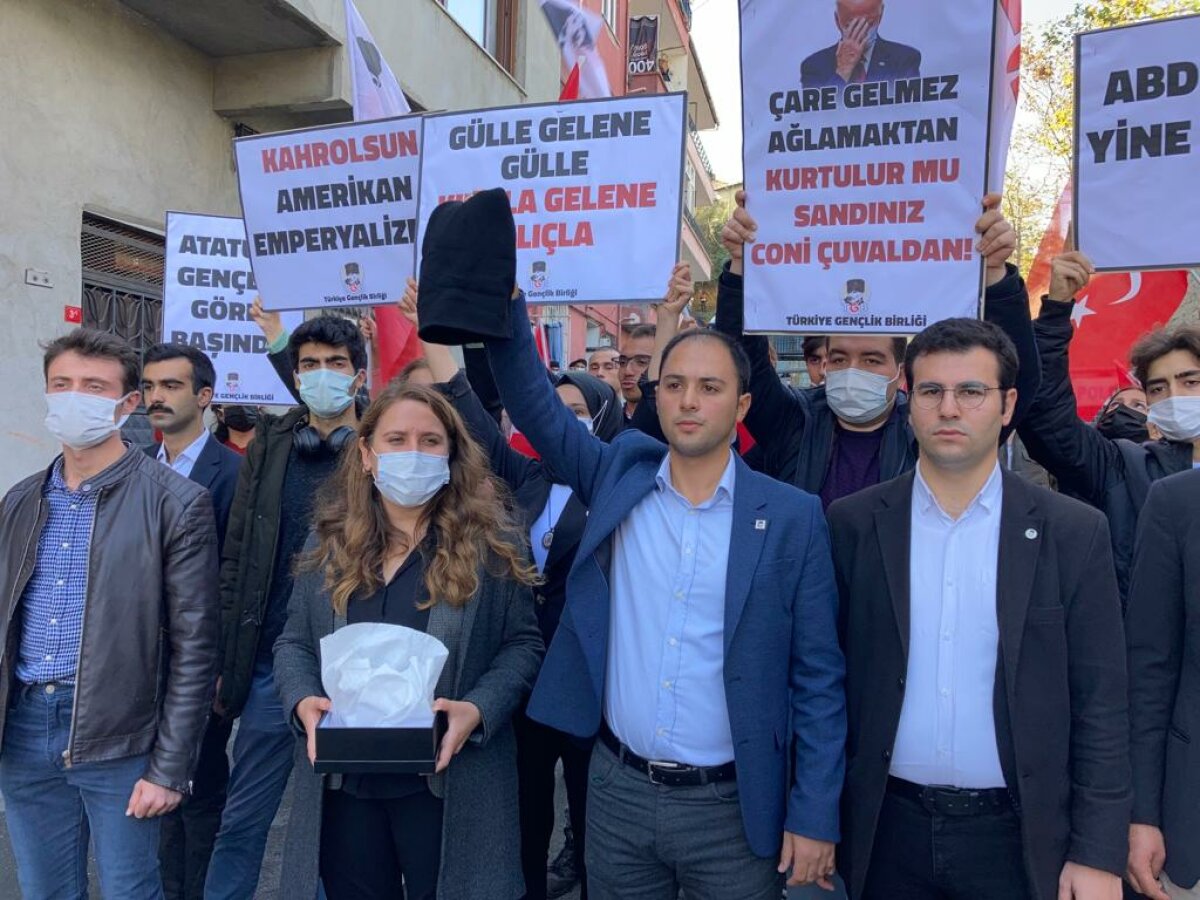 Members of Youth Union of Turkey (TGB) announced that they will send the hat belonging to the U.S. soldier who dropped it while running from them to Mr. Joe Biden along with the press statement they made in front of the U.S. Consulate General in Istanbul.
TGB members had protested the United States by putting a sack over the head of a USA soldier in Sarayburnu on November 2nd as a response to the Suleymaniye sack incident in 2003.
The press statement was made by Deputy President of the TGB Naci Önenköprülü. In the statement, the sack protests of TGB that happened six times from 2011 up to the date were reminded to the USA President Joe Biden. Önenköprülü said that the Turkish youth is brave and always vigilant against the enemies of Turkey:
"Mr. Joe Biden, a military ship of your 6th Fleet has passed through the Strait of Çanakkale and anchored in Istanbul recently. When we look at the comfort of the crew that came out of it, it seems that you did not tell them that Turkey is not like other countries, the courage of the Turkish youth, and your previous sack experiences. Someone needed to remind them who they are and who we are." he said.
Mr. Önenköprülü, also drew attention to the activities of the USA to destabilize the region, especially in the Eastern Mediterranean and the Black Sea. Emphasizing that the U.S. navy and army are trying to surround Turkey, Önenköprülü said that the USA is trying to intervene in Turkey's internal affairs and is carrying out destructive activities not only outside but also inside of Turkey. Önenköprülü said that those who try to interfere with Turkey's sovereign rights will find the Turkish nation against them and reminded the defeats of the USA in Vietnam, Iraq, Afghanistan, and Syria.
During the statement, TGB members chanted the slogans of "Tremble USA, Turkish Youth is Coming", "Down with American Imperialism", "We are the Soldiers of Mustafa Kemal." In the end, they set a symbolic ceremony of sending the hat to the USA.